Glass Water Cooler, Yuzamashi, Heat-resisitance Glass, by Ryuta Mizukami, Sauce Pitcher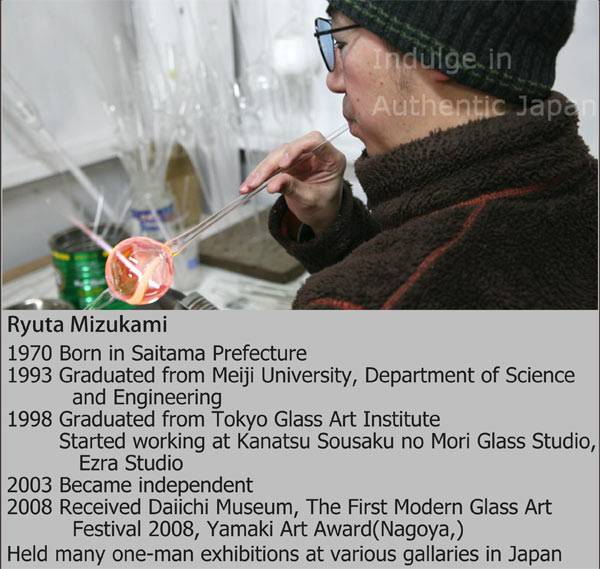 Made in Japan

Made by Ryuta Mizukami
Size:About Height 10.7cm * Radius 7.6cm
Material:Borosilicate Glass (Heat Resistance Glass)
Capacity:(Max)About 320ml
Shipping Cost
Free Shipping anywhere
Shipping method
We use EMS(Express Mail Service). After we ship the product, it will take 2-5days to arrive at your place.
Purchaser of the product must read the below condition carefully.
Return/exchange and refund
We will not accept return/exchange of the product unless the products we sold have any damages or we shipped the wrong item.

The product is carefully examined before shipping. However, in case there is any damage in the product, you should check the product within 7 days and report to us after receiving it. Otherwise, we will not be responsible for the damage, so please check the quantity, apparent condition, etc., when the product arrives.

The color of the product you will receive might look slightly different from the pictures you see in this web page. This is because depending on the amount of light when the picture was taken, the color in each picture might look different. Please understand, we will not accept return or make refund because of the above reasons.

We will not be responsible for any of the customs clearance and customs duty/tariff payment.
Ryuta Mizukami, Miyuki Maeda
Both glass artists from Fukui prefecture, Ryuta Mizukami and Miyuki Maeda are held in high regard within the world of glasswork. The two have long-standing individual artistic careers, but, in recent years, have been noted for their many collaborative works.
Mizukami specializes in lampworking with heat-resistant glass and blown glass techniques, producing dishware, accessories, and other objects d'art. Maeda, his wife, is best known for her work in enameled glass; her pieces are known for their use of delicate, highly original designs and patterns created in relief by the overlay of white enamel and clear glass.
Ryuta Mizukami
Educated in science and engineering, Mizukami originally sought a career as a chemical researcher or teacher. During his college years, however, Mizukami became swept away by the music he played with his band, and pursued a career as a musician after graduation.
The difficult jobs he took to augment his musician's income, however, led to a decline in his health, and the music itself fell by the wayside. Instead, Mizukami felt himself inexplicably drawn to various works of glass art, and became immediately enamored with the glass art world. Using up all of his savings in the process, he attended a technical glassworking college in Tokyo for three years and, after graduation, moved to Awara, Fukui prefecture. He began working at the Kanazu Sousaku no Mori – the "Kanaz Forest of Creation," a glasswork shop operated by the city – where he later met his wife, Miyuki Maeda. In order to devote themselves to their own work, Mizukami and Maeda founded their own independent studio in Fukui in 2003.
Stating that he "wants people to use [his] works," Mizukami uses tempered heat-resistant glass in many of his creations. Even though his works feature thin glass and are surprisingly lightweight, they are more durable and impact resistant than most ordinary glass pieces, making them perfect companions for everyday life.
Everyday usefulness, however, doesn't come at the expense of artistry. Mizukami is at heart a designer, and pursues a variety of different patterns. One pattern particularly identified with Mizukami is a unique gecko motif, which he has been working with since the late 1990s. The gecko, beyond its unique movements and sleek visual appeal, is overflowing with a powerful sense of life and energy; that, says Mizukami, is what he aims to represent.
The creative process for Mizukami's gecko works is surprisingly involved. The gecko's body and tail are affixed to the dish that will become the base of the work, and then kiln fired. The firing process is then repeated after the addition of each leg, with care being taken to prevent the piece from cracking due to thermal expansion. The overall process is exceedingly delicate, and the utmost care must be taken to bring the work to its completion.
Though Mizukami remembers the impatience he felt in his early years to establish his own style of glasswork, he now allows his creativity to flow naturally, creating the pieces he wants to make as they come into his mind. "I only make pieces that I would personally enjoy using," he says. "I hope that my customers will feel that same sense of enjoyment."

Miyuki Maeda
Soon after moving to Tokyo at age 19 to attend a technical glassworking college, Miyuki Maeda left the school, returning to her native Fukui prefecture to pursue an opportunity at a glass-arts workshop. By a quirk of timing, however, the workshop almost immediately shut down, and one year later, Maeda joined the newly opened "Kanaz Forest of Creation," where she would later meet her husband, Ryuta Mizukami.
Maeda has been working in her present style since around 2000. "I found a technique for locking designs not only on the surface of a work, but inside the glass itself," she says, describing the discovery of her signature enamel technique. "I thought that it was just wonderful." After working with several colors of enamel, Maeda finally settled on white – a blank page or canvas – as the central component of her works.
"People often ask me to draw out my designs on paper, but you just can't write on paper like you draw on glass," she says with a smile. "I just love cutting through the enamel and opening a space for the glass itself to shine through."
Without drafts or plans, Maeda relies only on inspiration, drawing out her designs in one creative burst. From plants and flowers to charming townscapes, her designs paint the familiar in novel detail, with a soft, natural touch, and her works bring a warm and sense of rejuvenation to any room.