Rough Wood Grain Pattern, Tokonameyaki Sencha Teapot by Toju, Hand-Made in Japan 200cc, Free Shipping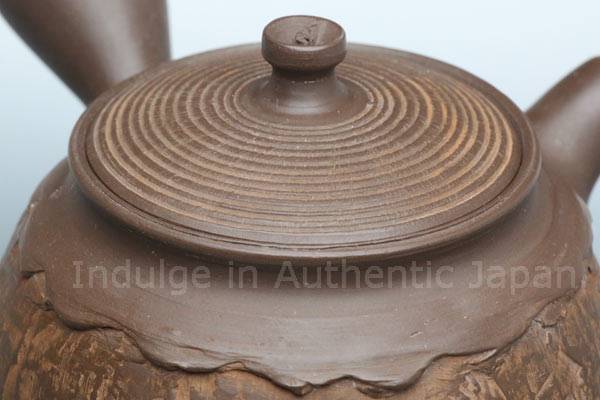 Made by Toju

Made in Japan

Size:Height 7.2cm * Width 11.3cm * Radius 8cm

Material:Pottery

Capacity:(Maximum) 200ml

Package: Kiri(Paulownia) Wood Box

Shipping Cost
Free Shipping anywhere
Shipping method
We use EMS(Express Mail Service). After we ship the product, it will take 3-10days to arrive at your place. You can track the parcel.
Purchaser of the product must read the below condition carefully.

Return/exchange and refund
We will not accept return/exchange of the product unless the products we sold have any damages or we shipped the wrong item. If we accept the return/exchange, the products must be complete and without any signs of having been used or damaged.

The product is carefully examined before shipping. However, in case there is any damage in the product, you should check the product within 7 days and report to us after receiving it (the days are calculated fromt the proven date of delivery). Otherwise, we will not be responsible for the damage, so please check the quantity, apparent condition, etc., when the product arrives.

The color of the product you will receive might look slightly different from the pictures you see in this web page. This is because depending on the amount of light when the picture was taken, the color in each picture might look different. Please understand, we will not accept return or make refund because of the above reasons.

We will not be responsible for any of the customs clearance and customs duty/tariff payment.



Toju
Born in 1932 in Tokoname City, a center of Japanese ceramics production, Toju was a ceramics artisan by birth – his father made earthen pipes, and his older brother was a flowerpot maker. He began assisting his father and brother when he was in elementary school, and got his start on the pottery wheel making water bowls for chickens.
From the time he was fifteen until age forty, Toju worked as his older brother's assistant. In the lean times after the war, he worked for food in place of wages. Because the two brothers were separated in age by 25 years, their relationship was less like that between older brother and younger than that between father and child, and in the postwar period, it was common for workers to assist their families without receiving pay in return.
In his work as an assistant, Toju took charge of throwing large flowerpots on the wheel. Moving the large pots in and out of the kiln was backbreaking work: "We traded off the day and night shifts minding the kiln in the boiling heat. Occasionally someone would get impatient and open up the kiln before it had cooled off – there were times when people's clothes would catch on fire! It really was tough work," he remembers.
Tokoname City is home to one of the Japan's Six Great Pottery Traditions," and boasts more than 1000 years of history, having been known for its pottery since the 8th century. Due to the pottery workshops throughout the town, people's clothes were often darkened with soot, and it is said that even the sparrows of Tokoname were pitch black. During the postwar period, manual labor was a common occupation, and eel and mochi shops sprung up around town to provide sustenance to workers. It was in this very town that Toju labored among the working class for 25 years.
When his older brother's children graduated from high school, Toju took the chance to establish his own workshop, receiving the trade name "Toju" from his brother; he was 40 years old. Upon establishing his own practice, Toju began making teapots. With no prior teapot-making experience, however, it was up to him to learn from his fellow artisans. Taking advice from acquaintances, Toju studied the form and composition of teapots; until he could sell his own, he lived by selling small pots for bonsai.
The clay that Toju uses in his teapots comes from his long connection to flowerpots and containers for bonsai, as do many of his designs. Instantly identifiable with Toju, the pieces he makes borrow the studs from bonsai pots and earthy patterns, including a signature tree bark pattern, and rearrange them into the teapot form.
Most of the pots Toju makes are on the smaller side – good for one or two servings of tea at a time – and are particularly well suited to brewing gyokuro, sencha, and other top-grade Japanese teas.
"To make sure that my pots are easy to use, I make them with the opinions of my customers in mind. That's also why I make my pots thin – it makes them both beautiful and easy to use. Of course, it is work that demands attention, but that's what I love about it – I'm obsessed. And because I make them thin, they hold more tea than you'd expect!"
The warm and elegantly simple designs that Toju creates have gathered enthusiastic fans who have long supported the artist, and the fact that he has taken no successor makes the limited number of the pots he makes all the more valuable.
"By now, I'm making the pots to keep my mind sharp as much as anything else, but the fact that people want the pieces I make is a happy blessing. My life as a potter has always been fairly smooth – I haven't encountered too many hard times. I'm grateful for that more than anything."