Yoshinobu Morimoto, Japanese Bizenyaki katakuchi, yuzamashi, water cooler, sake pitcher 320ml
This is a katakuchi made by Bizenyaki pottery artist Mr. Morimoto. He is studying ko-bizen(old bizen). Like this piece, firmly burnt, orange color piece made in Momoyama period has been found.
The impurities are not filtered out on purpose, after being burnt, they come out to the surface. and that adds very nice flavor to this piece. Especially the stones appearing with the crack at the spout and right next to the signature are so cool.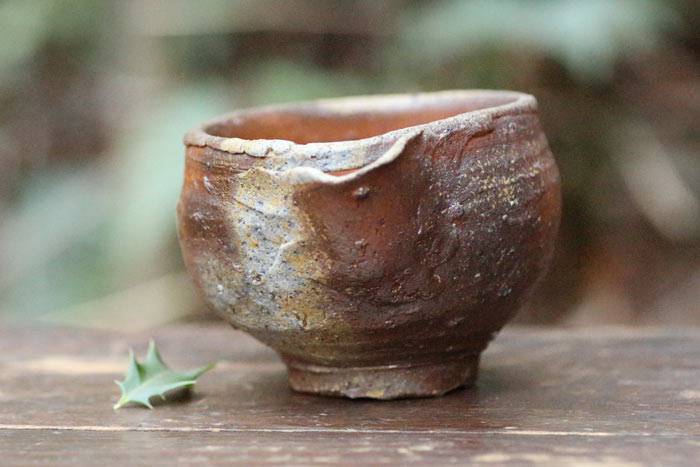 Yoshinobu Morimoto
1976 Born in Okayama Prefecture

1996 Finishes study at Bizen Tougei Center
2000 Built small small-kiln(3m) and anagama-kiln(6m) in
Akaiwa City, Okayama Prefecture
Made a study of old pottery firing method
2004 Started to hold solo exhibition
2007 Moved to Ushimado, Setouchi City in Okayama Prefecture,
and built anagama-kiln(8m)
2012 Moved to Ushimado Sabukaze in Okayama Prefecture,
and built anagama-kiln(5m)
Made by Yoshinobu Morimoto

Made in Japan

Size:Height 8cm * Length 13.5cm * Depth 10.9cm

Material:Pottery

Capacity:(Maximum) 320ml

Package: Kiri(Paulownia) Wood Box

Shipping Cost (It might differ from the actual EMS shipping rate)
Asia District (Taiwan, Hong Kong, Singapore, Malaysia, Thailand, Vietnam, Philippines, Macau, China, etc.) - JPY 2520
America District(USA, Canada, Mexico, Costa Rica, etc) - JPY 3400
Oceanea District(Australia, New Zealand, New Caledonia, Fiji, Papua New Guinia, etc) - JPY 3400
Middle East District(Turkey, Saudi Arabia, UAE, Oman, Qatar, Iran, Iraq, Kuwait Bahrain, Israel, etc )- JPY 3400
Europe District(France, England, Germany, Italy, Spain, Switzerland, Sweden, Denmark, Finland, Belguim, Poland, Russia, etc) - JPY 3600
Shipping method
We use EMS(Express Mail Service). After we ship the product, it will take 3-10days to arrive at your place. You can track the parcel.
Purchaser of the product must read the below condition carefully.
Return/exchange and refund
We will not accept return/exchange of the product unless the products we sold have any damages or we shipped the wrong item. If we accept the return/exchange, the products must be complete and without any signs of having been used or damaged.

The product is carefully examined before shipping. However, in case there is any damage in the product, you should check the product within 7 days and report to us after receiving it (the days are calculated fromt the proven date of delivery). Otherwise, we will not be responsible for the damage, so please check the quantity, apparent condition, etc., when the product arrives.

The color of the product you will receive might look slightly different from the pictures you see in this web page. This is because depending on the amount of light when the picture was taken, the color in each picture might look different. Please understand, we will not accept return or make refund because of the above reasons.

We will not be responsible for any of the customs clearance and customs duty/tariff payment.



Though Yoshinobu Morimoto works in the Bizen-yaki style – a ceramics tradition with over 800 years of history that is beloved among devotees of the art – his pieces are a radical departure from the common image of Bizen-ware. Their texture, in particular, is vastly different from other modern Bizen-ware pieces, strongly influencing both the look and feel of the pieces.
"The key is staying focused on the goal of creating what I think of as 'quality' Bizen-ware, and bringing together the ingredients – the clay, the kiln, the mindset and the skill – needed to bring it into being," Morimoto says.
Morimoto long ago fell in love with the Ko-Bizen – ancient Bizen-ware – of the Azuchi-Momoyama Period (in the late 16th century), and has devoted himself for 20 years to studying that style. As a ceramics tradition, Ko-Bizen spans from the Kamakura period (covering the 12th to the 14th century) to the middle of the Edo period, which ended in 19th. But it reached full flower in the Momoyama period, when the feudal lords and other nobility of the time spent vast sums to commission teaware. It was during this period that ceramic vessels previously viewed merely as everyday implements for the lower class took on an aesthetic value of their own, and that many a masterpiece of ceramics came into being.
In the late Edo period, waning demand for teaware led the culture surrounding Bizen-ware to vanish for a time. As a result, there is no documentation of how Bizen-ware was produced during the Momoyama period. Given this absence of knowledge surrounding the actual techniques used during that time, the only way to replicate Ko-Bizen is by careful study of surviving works, coupled with trial and error.
"I take the long view of Bizen-ware, as an art form that stretches from the Kamakura period to today. But there is an undeniable sense of power about pieces from the Muromachi and Momoyama eras," Morimoto says.
"The aesthetic themes of those periods are at the very heart of Bizen-ware," Morimoto says; it was, after all, during the Momoyama period that practitioners of tea ceremony began to absorb the Bizen-ware tradition – which, during the Muromachi period, produced miscellaneous household vessels – into their aesthetic sensibilities. "My job is to keep those themes in focus and pull them into the present, in order create works that strike people as the paragon of Bizen-ware."
Morimoto was born in 1976 in Akaiwa, Okayama Prefecture. After graduating high school, he began studying at the Bizen Ceramics Center, a notable school in the style's hometown of Bizen, Okayama.
Morimoto had intended to become a pottery artist. But he began to notice that many people around him were turning out commercialized Bizen-ware meant for souvenir trinkets – a fact that made him uneasy. As he continued to study ceramics, he eventually happened upon Ko-Bizen. He dove into the existing literature on the subject, and whenever he found an opportunity to view Momoyama-era ceramics – not just Bizen-ware, but Shino-ware, Iga-ware, Oribe-ware and other styles as well – he seized it, traveling all around Japan in the process.
At age 24, Morimoto built a kiln of his own, and has constructed five others since. He has used these kilns to test out his own theories of ceramics, always keeping Ko-Bizen in view as a basis for comparison.
At a time when many artisans are working to update Bizen-ware for the modern era, Morimoto is in a sense running against the current, seeking to bring the power of ancient Bizen back into view. We invite you to experience that power for yourself.