White Gyokurocha Kyusu Teapot Pure Hand-made by Taketoshi Itoh 140cc, Sencha Kyusu, Hakuji Kyusu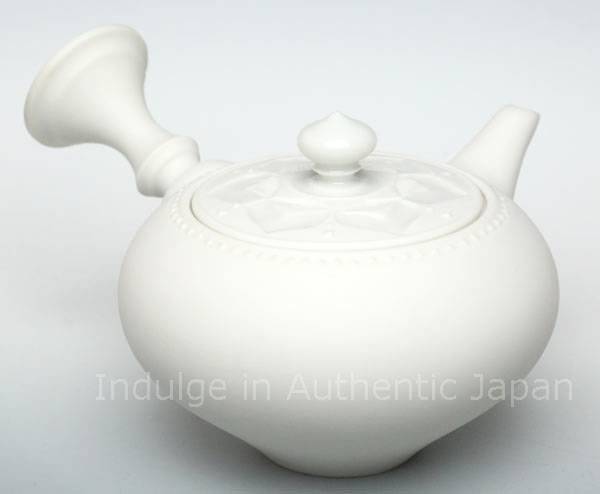 Made by Taketoshi Itoh
Made in Japan

Size:Height 7.5cm * Width 12.9cm * Radius 8.6cm

Material:Porcelain

Capacity:(Max)140ml

Package: Kiri(Paulownia) Wood Box

Shipping Cost
Free Shipping anywhere
Shipping method
We use EMS(Express Mail Service). After we ship the product, it will take 3-10days to arrive at your place. You can track the parcel.
Purchaser of the product must read the below condition carefully.
Return/exchange and refund
We will not accept return/exchange of the product unless the products we sold have any damages or we shipped the wrong item. If we accept the return/exchange, the products must be complete and without any signs of having been used or damaged.

The product is carefully examined before shipping. However, in case there is any damage in the product, you should check the product within 7 days and report to us after receiving it (the days are calculated fromt the proven date of delivery). Otherwise, we will not be responsible for the damage, so please check the quantity, apparent condition, etc., when the product arrives.

The color of the product you will receive might look slightly different from the pictures you see in this web page. This is because depending on the amount of light when the picture was taken, the color in each picture might look different. Please understand, we will not accept return or make refund because of the above reasons.

We will not be responsible for any of the customs clearance and customs duty/tariff payment.



Taketoshi Itoh
With their crisp silhouettes, unique shapes and exquisitely finished surfaces, Taketoshi Itoh's pieces can be mistaken at first glance for castings. Yet closer inspection reveals them to be of the highest quality, crafted painstakingly by hand.
The artist produces primarily functional pieces – teaware, tableware, vases and the like – but is not afraid to twist them into one-of-a-kind forms. What he emphasizes most strongly is a work's silhouette: "I can tell a piece is my own from a single glance at its shadow," he says. "If a piece doesn't have a beautiful silhouette, it's painful to place it alongside my other works, say in an exhibition."
Itoh's teaware, in particular, is not produced through any defined traditional method. Rather, it is created through a process that is indelibly his own. Its style, too, is constantly shifting – wait just a short while, and the artist may be on to something different altogether.
Itoh was born in Saitama Prefecture in 1981 to a strict and rigid office worker of a father. It was perhaps this that instilled in him a desire to pursue some unconventional path after high school, passing over college to become a chef, or a cameraman – at any rate, to avoid the fate of a desk jockey. Yet his parents' will ultimately won out, and, after graduation, he headed off to study civil engineering, learning to design dams and bridges.
Since he was very young, Itoh says, he had lived as his father demanded, unable to do as he wished. Eventually, this clouded over his own goals for the future, and his very sense of self. Watching co-workers around his age at his part-time job striving to achieve their own goals and dreams filled him with envy, as well as the desire to find something of his own to strive for.
At 20, he decided to drop out of college – a move that, as expected, was met with much resistance from his parents. But the ever-yielding Itoh managed to remain firm, setting out at last on his own path.
At the time, the idea of a career in pottery came to him as a whim, which he followed to the town of Mashiko, Tochigi Prefecture, the seat of a long ceramics tradition.
"It's embarrassing, to think back on it now," he says. "Of all the pottery towns in Japan, I only knew of Mashiko."
Upon arrival, Itoh happened upon a want ad for the pottery factory that would become his workplace. At the time, "I didn't even know how to use a pottery wheel," he says.
With no prior training, Itoh was forced to reproduce pieces with only a sample to go on – a bizarre method if there ever was one. Yet day in and day out, he honed his skills at the pottery wheel, mastering basic techniques along with glazing and kiln-firing. It is likely this experience that helped shape Itoh's unique, experimental brand of craftsmanship.
After four years engrossed in the work, Itoh left the factory in 2006, at the age of 24. Though he initially sought out a formal teacher, such training did not fit with the hazy notion Itoh had of the pieces he wanted to create. He therefore struck out on his own, to work as he wished.
Itoh sold almost nothing during his first year on the job. Pushing pieces at a monthly street market gave him enough to survive – but only just. A scanty diet left him 13 kilos lighter, and his electricity was shut off as funds failed to flow in.
He eschewed any sort of advertising or promotional activity in favor of self-study in ceramics, reading every relevant book he could get his hands on. Around a year in, sales began to pick up, and Itoh began to truly build a life as an artisan. He began honing in on his current style in 2010 or so.
Though Itoh's works contain a fair amount of ornamentation, he says that he does not particularly like flourishes. His ideal pieces are those from which all unnecessary elements have been stripped away, leaving only the simplicity of form.
At first, "I wanted to cut things out, but thought that, in my own pieces, nothing existed to be subtracted away," he says. "So now, I'm in the addition stage. I want to see how far I can go on adding things in. Maybe I'll keep adding forever – who knows?"
Whether Itoh's works become more ornate or slim down to their very essence, one thing is certain – his style will continue to shift, grow and develop. What bold new direction will he set out in next?